Book I've just begun reading: 
Zip by Ellie Rollins, Razor Bill, an imprint of Penguin.
Book I'm going to read next: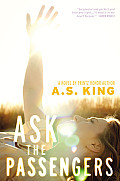 Ask The Passengers  by A.S. King, Little, Brown Books for Young Readers
Book I own and is next on my stack: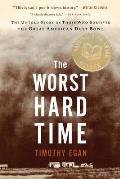 The Worst Hard Time: The Untold Story of those who Survived the Great American Dust Bowl by Timothy Egan, Puffin paperbacks.
I attended a local writing workshop led by Jane Vandenburgh, author of The Architecture of the Novel and she had many wise things to say.  Some of the gems: 
"A story can manufacture its own structure if you allow it."
"Outline your book after you've written it." 
(YES!  This is me now.  For those of you who aren't into outlining your plot like I am, you don't have to impose the structure first.)
"If you are writing a character driven story, remember the character must participate in the world.  Thoughts aren't action.  Think cinematically." 
(Many story problems occur because the main character doesn't do anything.)
"You don't have to start at the beginning.  Start at chapter seven.  Write anywhere." 
(Lots of people don't write their stories because they don't know where to start.) 
And the best quote of all, in my opinion:  "Our characters don't know who they are until they run into conflict." 
Writing Prompts:
1.  Who is your character?  What is the worst thing that could happen to her/him?  Something embarrassing?  Get her/him into a jam.  How will he/she get out of it?
2.  Outline a story you have already written.  Have you enough conflict and tension in your story?  Did your main character solve a problem or learn/grow a bit?
3.  In the book you are reading now, how does the character change throughout the story?  What propels the character into action?